Improve the quality of your life and sign up for Unyte today!
Unyte is an organization of professionals who offer a revolutionary biofeedback and meditation device that measures Heart Rate Variability (HRV), which is a measure of the variation in time between heartbeats, and is considered to be a strong indicator of meditative state.
According to the research HRV biofeedback may, as part of a healthy lifestyle, help in the following ways:
Improve ability to handle adversity or stressful situations
Decrease anxiety
Stress management
Reduce depression
Improve responses to anger-inducing stimuli
Improve sleep quality
Reduce pain
Improve gastrointestinal disorder symptoms
Improve mood and psychological well-being
Help fine-tune skills for optimal sports performance
Decades of research has shown that a higher HRV correlates with an optimal, relaxed nervous system state, positive emotions, and improved health. You will also receive meditations from world-renowned teachers Thich Nhat Hanh and Nawang Khechog.
Get ready for a fully immersive meditative experience!
Unyte's previous products have been referenced by over 100 scientific journals and endorsed by hundreds of professionals. What did the researchers find? Published results have found that use of Unyte's products may, as part of a healthy lifestyle, lead to improvements in stress management, anxiety, pain, depression, coping skills, creativity, ADHD, parenting, athletic performance, and music performance.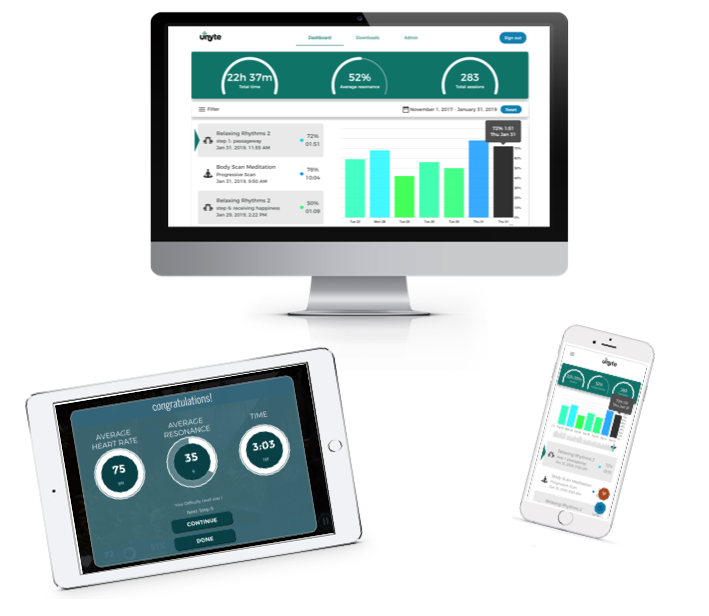 Receive 5% Off in a Unyte Program
Receive 5% off when enrolling in a Unyte program. Click on the following link and enter the Promo Code: MINDBRAKES when checking out.
Enroll Now
Receive $20.00 Off a 1000 mg Isolate Tincture
When you enroll in a Unyte program enjoy $20.00 off of a 1000 mg Isolate Tincture by using the following Promo Code: Unyte at checkout.
Shop Now
These statements have not been evaluated by the Food and Drug Administration. This product is not intended to diagnose, treat, cure, or prevent any disease.